Oh it's nasty. Jimbo did not back down in his reply. Meanwhile I'm over here

Trying to figure out a way Duke, Miami, and the top half of SEC basketball all catch a stray in this one
SEC bball besides their basketball coach at Alabama, who is doing NIL the "right way" according to Saban.
One of my issues with the coaches and ADs critiques recently is that the distinctions they try to draw between "good" NIL and "bad" NIL seem fairly ill-defined, or that it's defined as "we are doing things right and it's so unfair that everyone else is breaking the rules."
Edit: Jimbo saying someone should have slapped Saban upside the head is pretty funny though.
any coach ever say we are doing things the wrong way. The F does the ubiquitous Right way even mean these guys speak of
I'd love to hear a coach come out and say "yep we bought a player, our alumni are richer and more invested than yours. Now I'm gonna coach em up and beat ya."
Edit: I feel like Florida era Steve Spurrier basically did that.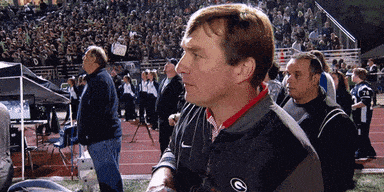 (shamelessly stole reaction gif from CFB subreddit)
All the NIL stuff might run off some fans but I'm starting to think the trash talk good guy vs bad WWE angle will bring in new fans too.
Jimbo is about to make me a Nick Saban fan.
Why a Nick Saban fan? Saban (I believe) is full of shiiite!
A fan of any enemy of Jimbo. Now that Will Wade is gone he's the biggest scumbag in major college sports.
I don't care about any of them. Im going to get me a big box of popcorn and join Dragon and watch the show
Buckle up the viewing is good. I'm all for coaches dropping the BS fake niceties and getting mad real.

Now Lane Kiffin is attempting to stir the pot, because of course he is (unfortunately have to click through to see the full tweet he quote tweeted)
Lane was born to stir the pot. He's the guy eho always gives the inappropriate toast at a wedding
Damn even I'm gonna be an SEC fan now.
Jerry Ratcliff and Chris Graham did a great interview with Lo Davis of Cavalier Futures regarding the direction of NIL at UVA. Definitely worth a listen.
He's pretty straightforward about how NIL is currently playing out. Basically says it's professional sports but with none of the stability/parity created by contracts and salary caps.