[16]Virginia (20-4, 12-3 ACC) (-16) hosts [179]Notre Dame (10-16, 2-13 ACC) (12:00, ESPN2/U)
We should be good as long as Cormac Ryan and Nate Laszewski don't go berserk from 3. Unfortunately Cormac Ryan loves going berserk from 3 when playing us.
Have a hunch we might be on fire from 3
I expect 25 points from Nate and 18 from Cormac. 6 point win for Hoos when we go 3-9 down the stretch at the FT line. Just win baby.
I think we have a very good option for dealing with Nate L in Dunn to at least not give up easy 3s. He gave Jayden a hard time last year.
Felt better about this until I saw Brey has never won in JPJ. Makes me pretty nervous Saturday is the 'parting gift' moment for Brey's last year
They only play 6 guys. Might start tight but packline will wear them down
Wonder if Brey prepares Nate for that mentally. Shows him footage of Ryan Dunn putting Filipowski in McKoy's empty cage and Brey tells him "Its coming my friend."
Any team with jump shooting ability makes me nervous because it introduces so much variance. Plus, noon game, we could come out flat. If this were on the road those things would be a much bigger concern though. And the flat effort against UL (and subsequent scare) should mean we come ready to play this time.
More than a few players on our team have something to prove based on the last game.
Brey probably prepares at the Biltmore
Is Brey gonna get one of those weird iron jerseys from UVa, just like K? That gift is the perfect bad gift – you can't get rid of it, you have no use for it, and you will hurt your back trying to put it in the trunk.
In 3000 years, that thing is going to be all that's left from our civilization and the aliens who take over the rubble will discuss the "Iron Jersey Age".
@CaptainThurman15
Actually, if we got Brey a Maarten's mug, that would probably be the ideal gift. The Maarten's mug was the most underrated UVa honor.
Also, it'd be nice if Brey gives us the fancy suit, mock turtleneck look one more time before retirement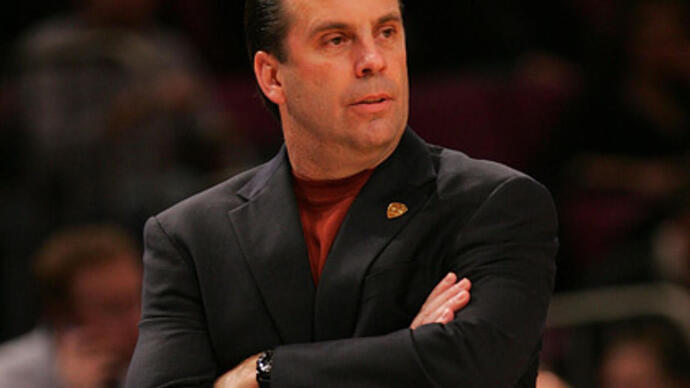 I'm ready for a game where we're on fire from the free throw line.
Our opponents' free throw defense has been exceptional past couple games.
Absolutely the perfect gift!!
WTF is that pic from that looks like someone's uncle from the bbq showed up talking about "What y'all know about hoop'n? I was trouble back in 68"
A high ball glass would be appropriate.
Hopefully, we finally figure out how to stop the corner 3 this game. Could see ND getting that look early and often. Duke and Louisville were both killing us from that drive, kick-out 3 to either corner. Grandison's 3 to tie the Duke on their next to last possession being a potential dagger.
I understand why it's happening, no rim protection which means the guards are sagging more towards the lane when their man drives from the top. Dunn is about the only one who can recover, not fully, but can affect the shot. Franklin, Kihei, and IMac have gotten in this spot numerous times.
Regardless, any win is a good win no matter how we get there. Just win baby. Go Hoos!