The florist

Moved back to #7 in KenPom.
9th in offense and defense.
Can we get a make up game in Thursday?
Could anyone tell what Beeks did to his finger? Midway through the first half? Obviously kept playing but was messing with it a good couple of mins.
I think someone fell on it in a loose ball scrum, if I remember correctly.
I calculated 70 possessions this game, which is unusually high for UVA, mostly due to a lot of turnovers by both teams. That turned a very good shooting performance by us into a good, but not great adjusted offensive rating for the game. On the flip side, it probably helped our adjusted defensive rating.
I thought Sam had a solid defensive game against Guerrier. Guerrier had 15, but it was inefficient (6-16 FG). Sam slid well against him and held strong in the post for the most part. He had some help from Jay on the weak side, but he definitely did his part to contain Guerrier.
How about Murphy and Hausers improved D and rebounding!
basketball analysts

I recently had to un-follow Goodman myself. Just couldn't take it anymore

I always get a kick out of TB needling Dave Koehn during his pressers and radio show.
They spend so much time together… I'm sure there is a certain dynamic there.
Have you ever noticed Goodman is always just nodding?
Interesting Dave Preston has UVa at #3… above Villanova… seems too high at this point.
Doug Doughty has UVa at #8… since he retired this week, so can he vote anymore this season?
Then David Jablonski has UVa at #17? Polls are so weird and subjective.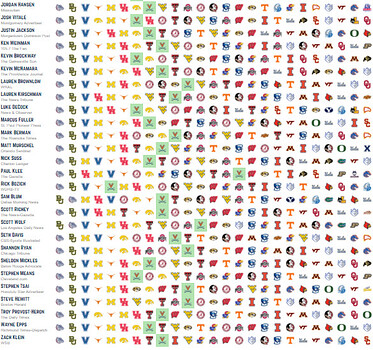 While it's nice that sam's shooting has picked up, he's not getting double doubles any more. He needs to work on that.
Game 13 Efficiency data vs. Syracuse: UVA as a team was 112.5 on offense and 80.6 on defense for a net per 100 possessions of +31.9 . This is the baseline to determine who contributed the most above or below the team performance.
Most important stretch:
The Hoos were up 30-26 with 3 minutes left in the first half - then Huff and Hauser combined to score the next 11 to go on an 11-0 run over 4 1/2 minutes to stretch the margin to double digits at 41-26 . Syracuse never got closer than 11 the rest of the way.
Best on Offense : Beekman.

Worst on Offense: TW.

Best on Defense : Huff.

Worst on Defense: TW.
Individual ratings.
Beekman: O: 152, D: 82, Net +70

Huff: O: 134, D: 76 , Net : +58

Hauser: O: 124, D: 83, Net : +41

Clark: O: 112, D: 83, Net : +29

Murphy: O: 98, D: 77, Net : + 21

Morsell: O: 98, D: 87, Net : +11 in 7 minutes

Caffaro: O: 100, D: 89, Net : + 11 in 8 minutes

Woldetensae: O: 43, D: 90, Net: -47 in 9 minutes
Syracuse:
They are just terrible on defense. That is the least athletic Syracuse team I can remember in 30 years. They did not guard our best players in the zone … over and over again.
Dolezaj and Griffin were their best players at -1 and -10. Dolezaj shot 50% - no other Orangeman shot better than 43% on the night.
The Hoos' turned the ball over a ton - 13 times on 72 possessions = 18% of the time. But Syracuse couldn't make them pay as they couldn't make shots (21% from three).The usage rate numbers had our 3 best offensive players as the 3 highest - Murphy, Huff and Hauser. This is the recipe for success all season.
Dave - thanks for doing these, always interesting to dive into the geek stats post victory. On their D, man are you right, Jimmy B called 2 TO's partially to discuss? yell? teach? guys about their D. Poor Alan Griffin got an earful for continuing to collapse the paint leaving Sam in the open