My first game back at JPJ since our Louisville victory/senior night in 2020. Beyond excited, especially after these last two games.
Only hoop game ever played at Scott Stadium?
Basketball alumni weekend. you will see some old hoos in the house
Anyone know where I can score tickets to the GT game? Need at least 3. My daughters been bugging me all season about seeing a game. Thanks!
I think its gonna be a tough ticket but email info@lockerroomaccess
Or DM @Merch
I just tried to transfer my tickets, which happen to be in 308U, and it wont let me because it says they are pending a transfer. No idea what's going on.
Thanks guys. Was able to get 2 on Stubhub for $22/ea in 303.
Doing some research on GT. We need Gardner, Shedrick, and Caffaro to dominate. Their only player over 6'7" is Rodney Howard (6'10"), who only plays 43% of the time (min%)
Also I can't wait to watch Reece (!!) clamp up Michael Devoe
4:00 PM Saturday tip, televised on ESPN2.
Georgia Tech is 10-13 overall, 3-9 in the ACC. NET ranking of 152.
The Jackets have only won two true road games this year, both against bottom dwellers Georgia and Boston College. They're playing a little better lately though. They beat Clemson last weekend, then on Wednesday they jumped out to a double digit lead on Miami in Coral Gables before falling 79-70.
Personnel
Devoe and Usher are the two stars. They account for 47% of GT's points. The rest of the cast is made up of older role players and young guys off the bench that are getting more time as the season goes.
Michael Devoe 6'5 Sr PG (18.7 PPG). The ACC's third-leading scorer. Big crafty guard scores it at all levels. Has struggled from deep in conference play, at 31%
Kyle Sturdivant 6'2 Jr G (8.1 PPG). He's become a nice role player this year. Will run the point some, shoots it pretty well.
Khalid Moore 6'7 Sr SF (6.0 PPG), Athletic combo forward is a garbage man. Slashes, gets on the offensive glass. Non-shooter.
Jordan Usher 6'7 Sr PF (15.0 PPG), Skilled inside and out. He's taking and making more 3s this year, hitting 35%. Another tough assignment for Gardner, or sometimes Shedrick/Caffaro when they go small.
Rodney Howard 6'10 Jr C (4.6 PPG). The only true big man in the rotation. He's become almost a starter in name only lately, playing a total of 10 minutes the last two games.
Reserves
Deebo Coleman 6'6 Fr SG (7.0 PPG). Freshman is getting starter minutes off the bench. Does nearly all his damage from 3, hitting 45%.
Deivon Smith 6'1 So PG (6.1 PPG). Freak athlete can be a streaky scorer. Very aggressive player. Terrific rebounder for a guard.
Jordan Meka 6'8 So PF (1.0 PPG). Long bouncy forward is playing more as Howard/Moore play less. He's in there for his defense.
Miles Kelly 6'4 Fr SG (3.5 PPG). Freshman had a couple nice games recently, scored 10 against Clemson.
Keys
Josh Pastner likes to constantly switch defenses, mixing in different zone looks. It's not a great defensive team, but they do force a lot of turnovers. The most in the league. Just like the Miami game, taking care of the ball is a big key.
We'll probably see more of Howard and/or Meka against UVA's big lineup, but they want to play small. And sometimes, very small. There will be mismatches for both teams in the frontcourt. Whoever maximizes that to their advantage has an edge.
One game at a time. That's become this UVA team's mantra. No let down, no looking ahead. As long as they bring the same focus, they're the better team and should take care of GT.
Devoe…time for Reece lock him up…be a fun matchup to watch…I dare someone to play a drinking where every time Beek makes a offensive or defensive play…drink…might not make it through the first half without passing out…
Was searching for a UVA gif or something to reply to that Pastner joke, and the below gif was tagged #UVA. How could I not use it? This will hopefully be us tomorrow… feasting on… a win… or something…
Anyway, go Hoos!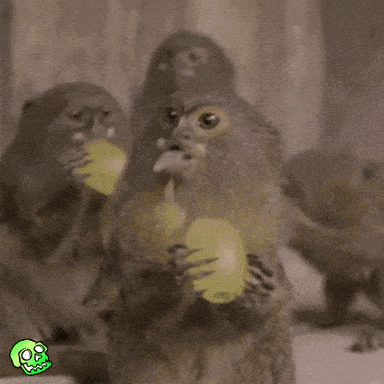 He ruined it by saying he was joking. Everyone knew he wasn't serious. I can't remember him saying anything remotely bad about anyone and more often than not, he says everyone is a hall of famer.
Pastner is a goofball. A goofball that I have come to appreciate over the years - if he'd just get rid of the 'burns! I always wish GT some success (my father's alma mater). GT is a tough place to recruit to and his teams generally play very hard. I think he and Brownell are two good dudes and hope they can scrape enough W's together to stay for a long time.
Besides, how could anyone hate a guy who spent part of a postgame presser talking about how he hopes he lives forever because he loves life so much?
It's 2022 and he still rocks sideburns like an extra on Beverly Hills 90210. He's sketch.
In a world full of dislikable scumbags I just appreciate we have a likable one in Pastner